Wireless internet is an affordable and reliable alternative to other available solutions. It is relatively easy to roll out into new areas and much cheaper to do so. The technology allows us to reach more homes, in less time and at lower cost.
Our wireless networks are well regulated and we don't allow more than 15 users to contend for the same bandwidth. This means you will get more bits for your buck and enjoy better performance than on most mainstream services.
Wireless internet services do not suffer the traditional ailments of internet connections. Wireless networks are relatively immune to weather conditions and any problems that may occur will normally clear up as soon as the weather improves. Cable theft and breakage also does not affect wireless internet.
Because we are an IT company we understand our clients' data requirements. This has allowed us to tailor our packages according to your needs meaning you don't pay for features you may never use. It also means that our fair usage limits are quite a bit higher than our competitors'.
You are more likely to reach full speeds on a wireless connection
Upload speeds are higher than that of ADSL.
Reliability of wireless internet exceeds that of ADSL and LTE and may even be more reliable than fibre because there aren't any cables that may get stolen.
Flexible services mean we can tailor make a package to your needs but be prepared to pay more
No untidy cabling.
Wireless services are used in rural and hard to reach areas. We are working on our rural coverage.
More affordable than LTE
More reliable than LTE
Better availability than ADSL, VDSL and Fibre
Requires direct line of sight to the closest towers. Trees can be a deal breaker.
Equipment is somewhat more expensive than ADSL and LTE
Wireless services are only somewhat more expensive than ADSL.
Slower speeds than LTE
This should by no means be a deal breaker, but there are fair usage policies.
Bad weather (windy, thunder storms, heavy rains) may cause interruptions. Interruptions normally only last as long as the weather conditions continue.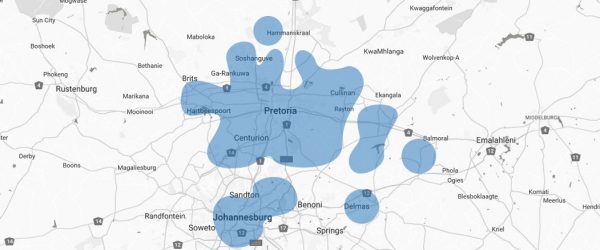 Capped VS Uncapped internet. Read more here: Compareguru
STANDARD UNCAPPED (FUP)
Ideal for light gaming, streaming and downloading. Suitable for most home users
2MBPS

50GB FUP

R

355

p.m.

2M

Download

15:1

Contention

50GB

Unshaped
4MBPS

150GB FUP

R

555

p.m.

4M

Download

15:1

Contention

150GB

Unshaped
6MBPS

150GB FUP

R

705

p.m.

6M

Download

15:1

Contention

150GB

Unshaped
8MBPS

200GB FUP

R

806

p.m.

8M

Download

15:1

Contention

200GB

Unshaped
10MBPS

250GB FUP

R

907

p.m.

10M

Download

15:1

Contention

250GB

Unshaped
12MBPS

300GB FUP

R

1210

p.m.

12M

Download

15:1

Contention

300GB

Unshaped
*Free installation is subject to a 24 month contract and an active debit order. 
You may purchase the equipment outright. Doing so will enter you into a month-to-month contract.
Initial cost: R3 500
This includes the Wireless Dish and the WiFi router.
Costs are based on a distance of less than 7KM to the nearest tower. Costs may change once a site survey is completed.
Packages with a value more than R700 per month are eligible for a 24 month contract. Contracts include a free dish and installation.
Dish and installation: Free
WiFi Router: R46p.m.
Costs are based on a distance of less than 7KM to the nearest tower. Costs may change once a site survey is completed.
An FUP is NOT a data cap. It is a mechanism which an ISP may use to regulate the use of its network to ensure a quality experience to all of its clients.  We allow our users a certain amount of full speed internet access. Once that allowance is reached (i.e. 150GB) we lower the speed of your connection in order to allow other users fair usage of our network.
Got my wireless internet installed today. Getting speeds as promised
, so happy i don't have to deal with the frustrations of adsl anymore. Thank you
Hermann Booysens
I have bought the Switch internet bundle which include the Switch TV Stick and internet. Both are great products and I really enjoy my new internet and TV entertainment.
Fanus Du Plooy
I was fedup with ADSL and therefore I decided to get a 6M premium uncapped from bitCONNECT. Now my internet is very stable and I am getting the speed I am promised. Installation was quick too. From the moment I ordered to when they installed was 2 days. Money well spent!
Gerrit Botha
What good service. Friendly and always willing to assist you in any problems with your wifi. We changed to Switch and we loooovee it. We can watch anything anytime. Even my wifi works! Thanx for your good service!
Hanri Chambers
Good day
I would just like to thank bitCONNECT from the bottom of my heart for their outstanding service. Having had to deal with a lot of ISP's in the past 4 years, I am more than impressed with bitCONNECT's professionalism, friendliness, work ethic and them really going the extra mile for their clients!
Lionel and Rianet went out of their way to help us establish our connection, and when installation took a day or two after we needed internet, they personally came to our house to make a plan until the wifi was installed today.
bitCONNECT is a company to be proud of, and if they continue to deliver the level of customer service they currently have, I can only see a very bright future for them. Their are many service providers out there who can learn a lesson or two from them of what it takes to really make a customer happy.
I do realize these are early days, but what a start to a professional relationship! Keep up the good work guys!!
Christo & Nicci Kruger
Nicci Kruger